Things to Know About Macular Degeneration
Did you know that macular degeneration is the leading cause of vision loss in patients over age 65? It affects more 10 million Americans with 1.75 million of those in the advanced stages of age-related macular generation (AMD). AMD is characterized by degeneration of the macula, the area of the retina responsible for central vision. Risk factors for AMD include people over 60 years of age, those with a positive family history of AMD and cardiovascular risk factors such as hypertension and smoking cigarettes. In fact those who smoke are up to 2-3x more likely to develop AMD. There are two types of AMD, non-exudative or "dry" AMD and exudative or "wet" AMD.
Types of AMD
Non-exudative or "Dry" AMD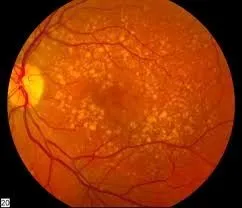 Pt with dry AMD. Note the yellow deposits called drusen at the macula.
Dry AMD is the more common and typically less severe form of the disease and accounts for approximately 90% of all cases of AMD. Many patients with dry AMD will have little to no reduction in vision. Others may have moderate to severe vision loss. Signs of dry AMD include pigment clumping, thinning of the macula and yellowish, cholesterol like deposits called drusen.
---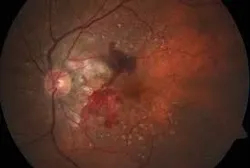 Pt with scarring and hemorrhaging at the macula due to wet AMD.
Exudative or "Wet" AMD
In about 10% of the cases, patients with dry AMD will progress to a more severe form of the disease call exudative or "wet" AMD. Underneath the innermost layer of the retina, just under the retinal pigment epithelium exists an extensive network of vessels called the choroid. In wet AMD, the thinning and breakdown of the innermost layer of the retina allows the blood vessels from the choroid to grow up into the macula resulting in severe leaking and vision loss. In the past the only treatment options were to try and stabilize the vision loss by applying laser to cauterize the abnormal vessel growth. Unfortunately, this often resulted in extensive scarring and almost no improvement in vision. Luckily today, with the advent of Anti-VEGF medications, there are more effective treatment options to provide hope to those with wet AMD. There are now Anti-VEGF medications like Avastin and Lucentis that can be injected into the eye to cause regression of the abnormal blood vessels, often resulting in a tremendous improvement in vision. Early detection is critical so it's important that patients at risk of AMD get a dilated retinal exam at least once a year.
---
Prevention of AMD
Research suggests that healthy food choices for your vision include vitamins, minerals, healthy proteins, and omega-3 fatty acids. Research suggests that antioxidant vitamins that include zinc, beta-carotene, Vitamin A, C, and E may protect from macula damage. In addition to vitamin supplementation, eating healthy foods like fish, fruits, and vegetables will also help reduce the risk of age related eye disease. Also, keeping your body healthy by exercising, watching your weight and controlling your blood pressure will also contribute to the health of your eyes. Quitting smoking is the greatest thing a patient can do to reduce their risk of developing AMD. Visiting your eye care professional for comprehensive dilated eye exams is one of the most important ways to ensure vision wellness.
Patients with mild to profound vision impairment often benefit from having a Low Vision Examination. In a low vision exam, the doctor will often prescribed high powered glasses, magnifiers, telescopes and even electronic reading devices to help patients see better while reading and watching television.