A Closer Look at the Causes and Treatments of Diabetic Retinopathy
Diabetic Retinopathy
One of the leading causes of preventable blindness is diabetic retinopathy. Elevated blood sugar levels in diabetes causes damage to the small blood vessels in the body. When these small vessels are damaged, leaking occurs which leads to poor circulation and tissue damage. This reduction in circulation is why diabetics often suffer from peripheral neuropathy, kidney damage and diabetic retinopathy.
The main risk factors that will determine your risk for having diabetic retinopathy are how well your blood sugar is being controlled and the number of years you have had diabetes. To simplify, the person most at risk of having retinopathy is someone who has uncontrolled blood sugar and has been diabetic for at least 5-10 years.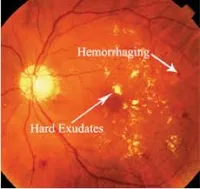 Patient with Non-proliferative Diabetic Retinopathy
Diabetic retinopathy is characterized as being non-proliferative or proliferative. Non-proliferative diabetic retinopathy is further categorized as being mild, moderate or severe. In these stages, your eye care professional and your primary care doctor will require close monitoring to prevent any progression.
---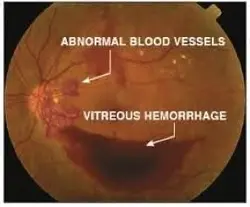 Patient with Proliferative Diabetic Retinopathy
Proliferative diabetic retinopathy is characterized by new blood vessel growth in the retina, on the optic nerve, or in severe cases the iris. These new blood vessels form in an attempt by the body to provide increased circulation to the retina. Unfortunately, these new blood vessels, if left untreated, will eventually lead to total blindness by causing vitreal hemorrhaging, retinal detachments and neovascular glaucoma. In any of the stages of diabetic retinopathy it is also possible to develop macular edema. This occurs when the small retinal capillaries near the macula leak, resulting is swelling and vision loss.
In many of the stages of diabetic retinopathy, the patient is often unaware that there are any problems. This is why it is critical that every diabetic patient should at the minimum, have a dialed retell exam on an annual basis.
---
Retina after PRP and grid laser photocoagulation.
Treatment options for diabetic retinopathy include ocular injections to reduce the leaking in the eye and reduce blood vessel growth. There are also laser
treatments that will reduce leaking and help to prevent further blood vessel growth in the retina. In focal or grid laser photocoagulation, a cooler laser is applied to the central retina to dry up the excess fluid thus reducing the macular edema. Pan-retinal photocoagulation (PRP) is applied to the peripheral retina to aid in the prevention and regression of abnormal blood vessel growth.
Here at Mobile Vision Professionals we are trained to detect all of these problems and refer our patients, as appropriate, to retinal specialists for treatment. Dr. Hassenpflug had the opportunity to spend seven years working at a Native American hospital that has the highest rate of diabetes and diabetic retinopathy in the world, so he has extensive experience examining patients with diabetes. He has also lectured at local, state, national and international meetings on diabetic eye disease.