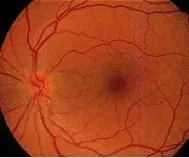 Healthy optic nerve and retina.
Glaucoma comprises a group of disorders characterized by glaucomatous optic nerve damage and visual field loss. The vast majority of patients with glaucoma have elevated eye pressure. This increase in pressure causes stress and damage to the optic nerve resulting in peripheral visual field loss. It is a significant cause of blindness in the United States and is the most common cause of blindness among black Americans. Although 2.3 million people in the US are diagnosed with the disease, there are another 2 million Americans who are still undiagnosed. This is why we screen all our patients for glaucoma at every comprehensive eye appointment.
Although there are various causes and types of glaucoma, the most prevalent form of glaucoma is primary open-angle glaucoma. Primary open-angle glaucoma affects men and women equally. Common factors associated with primary open-angle glaucoma include a family history of glaucoma, race, increasing age, high degree of myopia, hypertension and diabetes.
In most cases, primary open-angle glaucoma is a chronic, slowly progressive disorder. Early detection and treatment is the key to preventing blindness and severe visual impairment. There are typically no symptoms to open angle glaucoma so if you are at risk for this disease, you need to receive an eye exam to make sure you do not have the disease.

---
Treatment for Glaucoma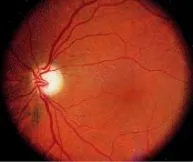 Optic nerve cupping seen in glaucoma.
Treatment options for glaucoma include taking eye drops to lower the pressure in the eye. When drops are unable to adequately lower the pressure, surgical options such as selective laser trabeculoplasty (SLT). In some cases, more invasive surgeries such as aqueous shunts or filtering procedures may be required. This condition is something we routinely diagnose and treat at Mobile Vision Professionals.